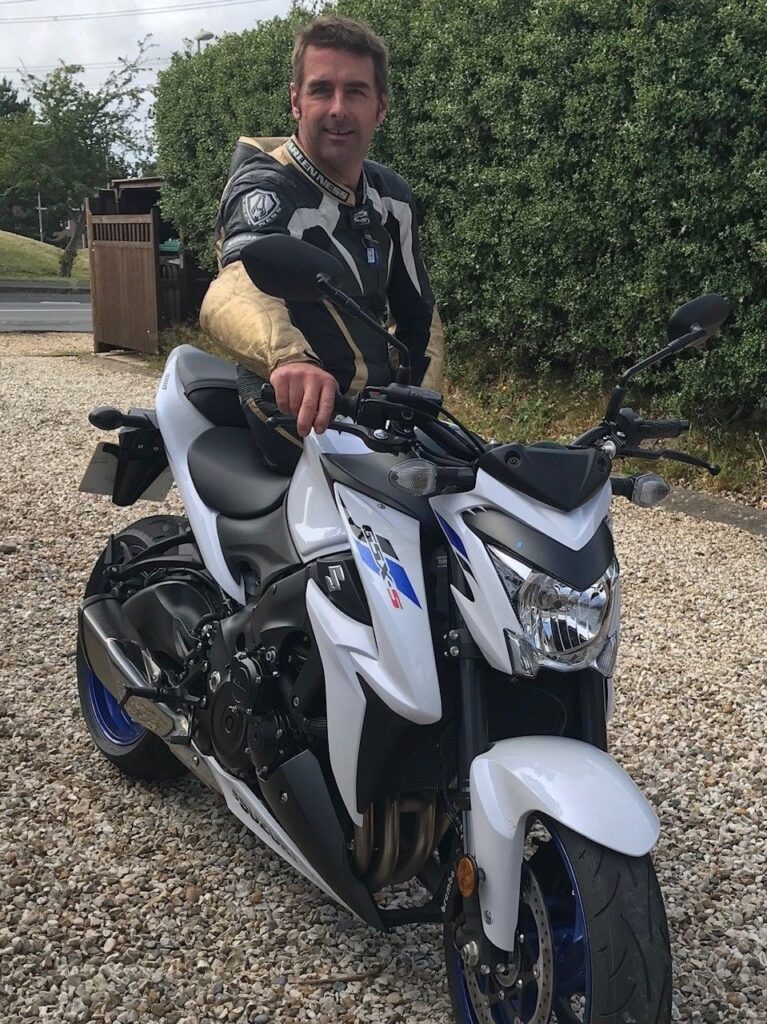 First impression…
I have to admit, I have a bit of a soft spot for this baby, as the power plant for this is basically the same motor that was in the GSXR1000K5 that I raced back in the day – and that was a stonking bike!
Visually, I really like the white with blue detail – it looks clean & crisp. I was surprised how easy it was to throw my leg over, preventing any toe scuff marks on the tail piece, and found it to be quite a natural seated position. Pressing the button, and it instantly fired up with that familiar menacing growl!
Engine…
The motor is silky smooth all the way through the rev range with progressive torque and power that pulls from sub 30mph in top gear with no complaints. Initially, I was sceptical it was the same engine that I knew at the lower revs as it seemed so rider friendly, but as the revs built, it just kept pulling and soon got the front wheel skimming the tarmac and me giggling like a school girl! Gearbox gave effortless gear changes both up and down the box and the clutch was really light, quite sensitive but had good feel.
Chassis…
I was a little surprised initially that the bike didn't fill me with confidence the first time I chucked it into a turn. The next one however, I put a bit of effort in – not much, just dropped the shoulder slightly, and felt loads better! I thought of maybe tweaking the front end as it has adjustable forks, but on research I see the 'S' has a longer wheelbase and a lazier geometry than the 'R', which makes sense and gives the additional stability. Suspension felt firm at the rear with a plush front end. You can go scratching on this, but need to put the effort in and you'll be grinning from ear to ear! Brakes are really powerful and give good feel.
Riding…
For an un-faired bike, it was surprisingly easy to maintain higher speeds and with the lower front end, it seems the wind catches your chest more than your head, which makes it easier on the body. The dash is quite simple and easy to read, but is limited on the rider aids front. When following traffic, the fly-by-wire throttle seemed a bit over responsive, requiring quite a lot of effort to stop it snatching over bumps, but sneaking through at traffic lights was a breeze. I found it really comfortable in whatever I did, but I should imaging someone with long legs might find the pegs a little cramped.
Conclusion…
For an all-rounder, this pretty much ticks all the boxes – agile for commuting, comfy for touring and can hustle when you want it to! Value for money, I would say it's bang on. It may not have the fancy electronics, bells & whistles, but it's a quality ride. The only thing I would do is maybe add a fuel module (Power Commander, Bazzaz unit) with an hour on the dyno to iron out that initial tap on throttle issue, then happy days!