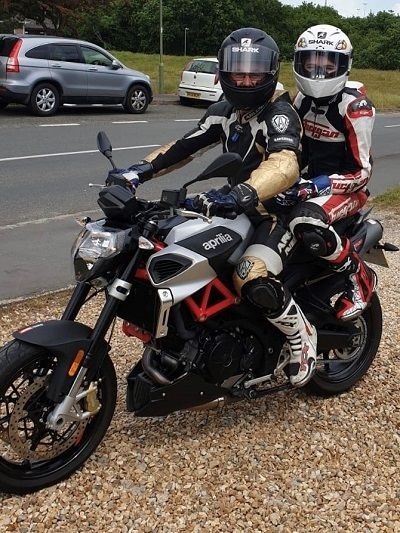 First impression…
A sweet looking all-rounder that I was pleasantly surprised at the fact it was easy to push around and manoeuvre – even on my slanted gravel driveway! At 5'7", I'm not the tallest rider and found the ergonomics to be very comfortable, with only minor adjustments to levers and mirrors required for everything to be in line, unloaded and have good vision. Firing it up omitted a pleasant muffled boom from the twin pipes.
Engine…
A torquey V-twin that feels surprisingly smooth, but for 900cc, I was expecting a bit more of a power rush as the revs rise. The pull seems to flatten in the higher revs until you hit the limiter, so there is no need to get this one screaming – it seems far happier in the mid-range. The first three gears seemed a bit agricultural, with me having to use the clutch on up shifts to stop my passenger head butting me from behind! 4th to 6th seemed fine though. Clutch was light, nice and progressive.
Handling…
The chassis does what the bike is designed for very well. Feels agile in traffic make light work in town and rolls into turns really well on sweeping A-roads. Suspension was firm and the bike felt stable with whatever I threw at it, managing to change line direction and direction with ease – but it certainly is not a sports bike! Braking was very solid and good enough performance, however I never felt the ABS cut in. On the motorway, my neck was straining after 5 minutes, and had to drop to the legal limit to prevent a trip to the physio…
Rider aids…
The LCD panel dash has big digits making it easy to read, however I did find it was maybe mounted too low as I was having to bow my head down when riding, taking my eyes off the road. It lights up like a Christmas tree at 100mph or at high revs, shouting to remind you that it's not designed for that sort of malarkey! It has three ride modes that apparently changes the ABS & TC parameters which was easy to change, but I didn't fully test.Conclusion… A great all-rounder with the usual Italian good looks. It may lack the Japanese equivalent refinements but I think that is reflected in the price difference. Personally, I would fit a screen to deflect the wind when on the motorway and fit some nice aftermarket cans to hear that V-twin properly!
John Crockford
We thank John for his valued review and hope this genuine feedback helps riders out there!